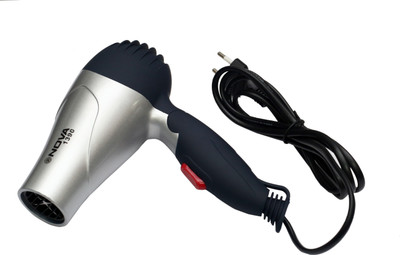 Nova Style NV-1390 Hair Dryer Silber, Black
ग्राहक जिन्होंने इस आइटम पसंद आया , उनको यह भी पसंद आया
विशेषताएं: Nova Style NV-1390 Hair Dryer Silber, Black
General
| | |
| --- | --- |
| Brand | Nova |
| Model Name | Style |
| Color | Silber, Black |
| Model Number | NV-1390 |
| Number of Speed Settings | 5 |
| Number of Heat Settings | 5 |
| Cold Air Feature | Yes |
अवलोकन: Nova Style NV-1390 Hair Dryer Silber, Black
Give your glamorous tresses something to boast about with this hair dryer from Nova weaving its magic. Whether you are going to a party or wish to give yourself a new look for a casual evening out, this appliance is sure to be your favourite companion. Settings Designed with five speed settings and five heat settings, this hair dryer can give you manageable and frizz-free hair in no time. Depending on the hairstyle, you can set the heat and speed level. Cold Hair Feature The cold hair feature comes into the picture when hot bursts of air start making your hair frizzy. The cold air helps keep every strand in place. Foldable This silver and black hair dryer is foldable, so you can carry it while you are travelling.
ग्राहक की समीक्षा का Nova Style NV-1390 Hair Dryer Silber, Black
5 सीतारा

(

0

)

4 सीतारा

(

0

)

3 सीतारा

(

0

)

2 सीतारा

(

0

)

1 सीतारा

(

1

)
समग्र रेटिंग
1.0 से 5 सितारे
समीक्षा का Nova Style NV-1390 Hair Dryer Silber, Black
Dhananjay Chandan
Fake offer on the product
10 Aug, 2020 On DiscountKart
The product is different from the one I booked . Got pink color cheap product while i booked the black one. Also the comb that was offered is not given as i received a comb of 8cm that is of 5rs rather than a comb of 299. Packing was not proper. Vote down to the seller. Poor quality products delivered.
अधिक पढ़ें समीक्षा पर Nova Style NV-1390 Hair Dryer Silber, Black -
DiscountKart (1)