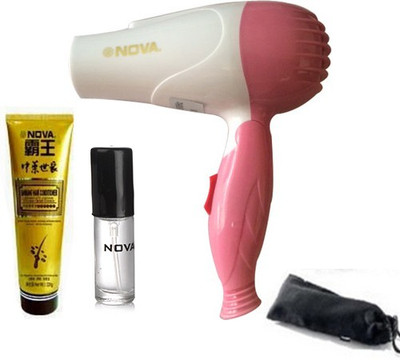 ग्राहक जिन्होंने इस आइटम पसंद आया , उनको यह भी पसंद आया
विशेषताएं: Nova NV-658 Hair Dryer
In the Box
| | |
| --- | --- |
| In the Box | One Hair Dryer, Perfume, Cream, Pouch |
General
| | |
| --- | --- |
| Brand | Nova |
| Color | White, Pink |
| Ideal For | Women, Men |
| Model Number | NV-658 |
| Cold Air Feature | Yes |
Convenience Features
| | |
| --- | --- |
| Hanging Loop | No |
| Removable Filter | Yes |
अवलोकन: Nova NV-658 Hair Dryer
In this fast moving world of early mornings, late nights, endless last minute meetings and frantic hurrying, towel drying your hair is something which just doesn't fit in our schedule. So Nova brings this foldable hair dryer which will dry your hair within minutes and will give your hair that perfect flow. Compact Design This white and pink hair dryer looks compact and is ergonomically designed keeping in mind your busy schedules. So whether you are at home or out on a business trip, this foldable hair dryer is something which will fit comfortably inside your dressing draw or travel bag without consuming much space.
ग्राहक की समीक्षा का Nova NV-658 Hair Dryer
5 सीतारा

(

3

)

4 सीतारा

(

5

)

3 सीतारा

(

2

)

2 सीतारा

(

4

)

1 सीतारा

(

3

)
समग्र रेटिंग
3.1 से 5 सितारे
समीक्षा का Nova NV-658 Hair Dryer
Shweta Rajani
1 का 3 people found this review helpful
Product doesn't fit its description
22 Sep, 2020 On DiscountKart
Cold air feature is a hoax. They have not put it on the box but don't know why the website says so. Got it today.. Not sure about the durability or the authetication of the product now as what is described is not true.